Tap Truck Beach Cities
Vintage Trucks Serving Craft Beverages | A Mobile Bar Experience
Proudly Serving the Los Angeles Area | Santa Monica, South Bay, Long Beach & Surrounding Areas
Tap Truck Beach Cities provides craft beverage catering for all types of events. We specialize in serving craft, locally sourced beverages using sustainable products. We take pride in using 100% biodegradable, eco-friendly products at every event.
It is our mission to create a memorable experience for every guest through our eye-catching bars, artisan beverages, sustainable products & professional bar management. When it comes to the bar, let us take care of it so you can enjoy yourself. We're more than a mobile bar catering service, we're a mobile bar experience!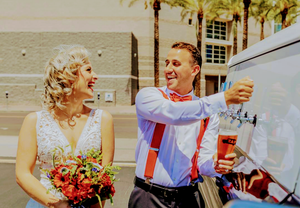 Weddings
We love weddings, but who doesn't? Our truck can handle weddings of any size, indoors or outdoors. In addition to creating customized bar menus & signs, our truck also serves as a wonderful photo opportunity for you and your guests.
VIEW EVENT PACKAGES
Non-Profit & Corporate Events
Make your next corporate event a little less, corporate. We know what makes an event memorable – it's good drinks & great company. Let us know how we can spice things up at your next corporate outing, work happy hour, cookout, or conference!
VIEW EVENT PACKAGES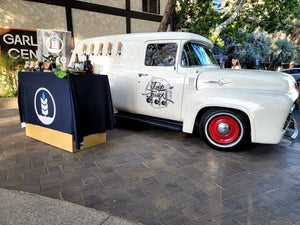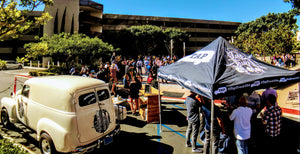 Private Parties & Tailgating
Whether you're a fan looking to take tailgating to the next level, or you'd like to have our bar on site at your private event, we can pour anywhere, for parties of any size, no electricity needed!
VIEW EVENT PACKAGES
Festival & Beer Gardens
Want to really stand out at your next festival appearance? Rent our truck or our services! Our 56 Ford Panel Truck has 5 taps and we can tap just about anything liquid. Apologies in advance for the never-ending line at your tent.
VIEW EVENT PACKAGES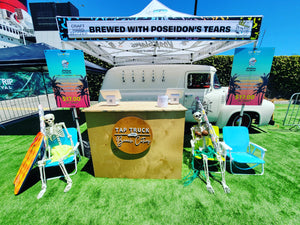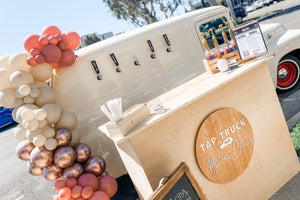 Other Events
Craft Sodas to go for your drive-by celebration. Soda & Beer Float Bar at your child's next birthday. Hot Cocoa & Cider during your pop-up event. Craft Lemonade Bar in front of your store welcoming shoppers. We love all events, big and small! Get in touch today to learn how we can make your event that much more memorable.
VIEW EVENT PACKAGES